Sensor Upskilling and Community engagement Waipukurau
Central Hawkesbay students were excited at the opportunity to participate in their river science initiative. PICAXE microcontroller and science were the tools to be utilised by our professional Technologists Ian of Digital Circus. A PICAXE chip is a standard Microchip PIC microcontroller that has been pre-programmed with the PICAXE bootstrap firmware code. The bootstrap code enables the PICAXE microcontroller to be re-programmed 'in position' directly via a simple 'three wire' download cable connection. This eliminates the need for an (expensive) conventional PIC programmer, making the whole download programming system a low-cost USB cable. The same software and download cable is used for all PICAXE chip sizes and project boards.
The students used a number of electronic platforms throughout the program. They were firstly introduced to the Picaxe programmable microcontroller which is a great educational platform to familiarise them with simple electronic components, their purpose and role within each circuit. The group was then shown how easy it is to use the picaxe 'microchip' -which is typically located on a simple breadboard, powered by 3 x AA batteries. Working as a team, youth learnt about the PICAXE programming language through actual, hands on building of their transistor subsystems to control motors, use a piezo for sound and LED as indicators.
Students also spent the time learning about digital and analogue signals and how data from different sensors can be used from each to control a range of outputs. From heat, light, moisture and water level, they will work in teams to sample, collect, store and retrieve data in numeric and graphical formats from around their school and discus their findings.
The students then collaborated to design and build a number of circuits that they individually put directly into the Tukituki & Waipawa rivers. The Raspberry Pi was then connected by Wifi to a remote Wifi hotspot which sent the data up to the cloud. The data from each circuit was accessed live by the students and teachers who observed data and any patterns that may occur in numeric and graphical form.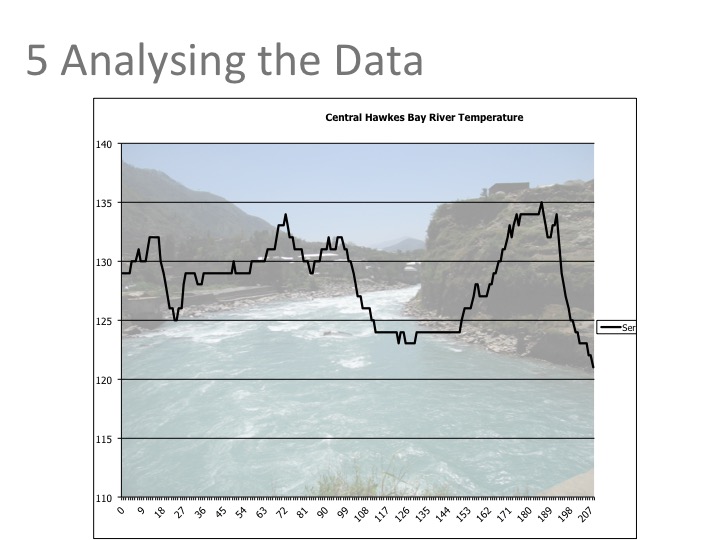 A couple of weeks later, students retrieved the circuits from the river location. These physical circuits not only stored the data, in its memory, for the students to access and retrieve back in school. It also allowed students to discuss, record and comment on their findings and any patterns or problems they may have encountered
At the end of the sessions, students organised and presented their findings and recommendations at the School's General assembly in which peers, staff and colleagues were invited to hear of the work they had done. Students utilised the opportunity to spark further awareness of our river health and the ways in which technology such as the BBC Micro:bit, can be beneficial as a coding program. The enthusiasm of our rangatahi was contagious with many peers wishing they had opportunity to attend.